Our serious approach to research of market and users' needs. Our knowledge and skills which we constantly upgrade with the awareness that we can always do better.
A bunch of creativity that we roll up in fresh ideas leading to an unforgettable experience of users around the world!
And we are not ready to stop!
_______
We have over

10 years of experience

in creating high-quality


apps and games that people worldwide love and enjoy using.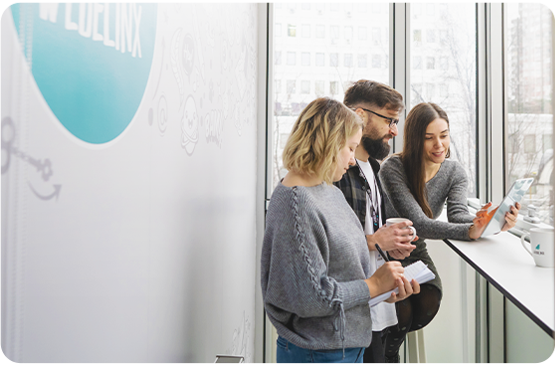 Knowledge

derived from great experience leads to constantly developing artistic, fanciful, and challenging games and apps for Android and iOS mobile platforms.
Our main goal is to 
provide users with
high-quality
mobile games
and apps!
_______




Webelinx is my second home, me and my teammates are close and connected by similar interests and we support each other in our ambitions. What I love here are the opportunities to try new things and mentoring other colleagues, which helps me develop professionally and grow personally. The company's valuable benefits and the company's attitude towards future mothers fully supported me all the way through my maternity leave and first months of motherhood and helped me get back on track professionally at the moment I was ready for it. That required such a high level of trust on both sides, which I am truly grateful for.
The very first thing I noticed about Webelinx is its vibe! That's what brought me here! People are very friendly and yet the atmosphere remains professional. I never thought I could learn so much about Android development in Kotlin - a language I was unfamiliar with, in such a short period of time. With the help of my mentor and colleagues, I hope to grow professionally as well as personally!
What first comes to mind when thinking of Webelinx's company culture is thinking of colleagues who you can share your difficult moments with as well as fun and games, like with family and friends. With its good vibes, teamwork, and truly unique music in the office on a daily basis, it is truly the most welcoming place to be. The skills I've developed during my time in Webelinx are professional communication and a deep understanding of teamwork so I can work in a group setting as an individual and also accept others as they are. For the most part, working as a Graphic Designer at Webelinx introduced me to the world of IT and gave me the chance to develop my professional skills to competent industry standards.
My adrenaline obsession finds its outlet in the adventures with my colleagues at work and outside of work. Each new functionality is a new challenge that we take up enthusiastically, and each new solution delights us as much as it delights our users - that's what keeps me going. Mutual agreement is the name of the game, be it pair programming, mentoring, carting, partying, or helping out a friend in need. I can always count on the feedback and the guidance I need to grow professionally, as well as the opportunity to take credit for my results. What I can also count on is that the company is ready to go out of its way to support me on my personal journey to wellbeing in every way possible - the benefit that is very often overlooked, but is crucial in building trust.
It's all about the people! My heart and soul are here as I work with my friends, who are my family as we've grown and matured together over the long journey at Webelinx. Working with young, creative, and open minded people allows me the flexibility and freedom to make decisions, which is what I like most about my dynamic role. The experience I gained working with so many people inside the company and external collaborators, and the variety of professional challenges I had to face carved out my personal skills significantly, the most valuable being listening, I mean really listening, taking in the message, and choosing how to respond - sounds like a Zen practice, right?
The best thing about my team is that we all have diverse backgrounds, identities and perspectives, and yet we are all united in a common goal - to create something amazing that millions of people will enjoy. Working in an open and supportive culture that helps us build meaningful relationships is what I really like about Webelinx, because, at the end of the day, the reason why I can't wait to go to work are - people.
What I like most about working at Webelinx is that every employee has the opportunity to be an essential part of every product that is being developed. Everyone can show all their creativity and make the work more fun and motivating. It is satisfying to see your ideas and the ideas of your coworkers come to life and that gives us even more motivation to keep on creating more amazing applications.
I have been working for Webelinx for more than 6 years and so far I have seen myself professionally transform in so many different phases. It's a fun and innovative company that truly values and eagerly empowers its employees. Webelinx is constantly challenging common stereotypes by allowing every employee, irrespective of their position, to be given a chance to be heard and guided through any challenge. What I especially love is gender equality and promoting and embracing women in the workplace. Given its vibrant spirit, Webelinx is a great place to work because every day here gives us an opportunity to learn something new.
Open Job Positions
_______
Address
Vojvode Tankosica 32
18000 Nis, Serbia
Email
contact@webelinx.com
Have something to share with us?
Or you need support on one of our apps/games?
We'd love to hear from You.
Please give us exact name of the application/game, OS, the type of your device and problem description in the message bar below.
Our support team will answer as soon as possible, but please be patient and understanding.
Thank you!